Project 74 Photos
Below you will find a collection of before and after Project 74 photos that track the restoration process of our own 74 GTO!
1974 GTO
Build Sheet: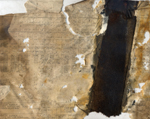 (WARNING 1.9mb File)
	Below you will find the progressive steps in the restoration process of Goathead 

Productions Project 74. Project 74 started out as many surviving 1974 GTO's. Barely complete

in all of it's original equipment, this GTO had seen many owners, none of which thought of

the car as the classic that it truly is. Goathead will be restoring this old Goat back to its glory.


One 1974 GTO - Purchased 7/23/99

Purchase Price - $2200.00
| | | | |
| --- | --- | --- | --- |
| | | | |
| March 2006 - Primer | | | |
| | | | |
| May 2007 - Paint and Reassembly | | | |
| | | | |
| --- | --- | --- | --- |
| Vendor | Description - 1974 | Date | Cost |
| | | | |
| Cost of 74 GTO | Car | Nov-99 | $2,200.00 |
| Ames Performance | parts | Mar-00 | $2,143.12 |
| | paint/decals | Jan-00 | $67.00 |
| | parts | Jan-00 | $162.00 |
| | shift know | Oct-00 | $25.00 |
| | parts | Dec-00 | $240.50 |
| | parts | Feb-01 | $580.50 |
| | door handles | Feb-01 | $57.00 |
| Eastwood | paint | Nov-99 | $69.87 |
| | paint | Dec-00 | $179.11 |
| Paddock | door seal | Oct-00 | $47.66 |
| | parts | Nov-00 | $14.95 |
| | radiator parts | Nov-00 | $15.89 |
| | steering coupler | Feb-01 | $30.72 |
| Inline Tube | brake parts | Aug-00 | $499.36 |
| Green's Obsolete Parts | Fan Shroud | Feb-01 | $57.00 |
| US Radiator | new radiator | Nov-00 | $285.00 |
| D'Macs | engine rebuild/ parts | Nov-99 | $5,159.86 |
| D'Macs | parts | Dec-99 | $1,711.89 |
| East/West Auto | exhaust manifold/parts | Dec-99 | $460.00 |
| | interior trim - entire | Dec-99 | $380.00 |
| Kanter | brake hoses | Nov-99 | $66.00 |
| | brakeline kit | Nov-99 | $192.50 |
| Coker Tire | tires | Sep-00 | $520.80 |
| 6-2-6 Rentals | engine hoist | Nov-99 | $24.20 |
| ElectroTech Powder | Powder Coating/SB | Dec-99 | $400.00 |
| | Powder Coating/SB | Jan-00 | $250.00 |
| | PC Coil Springs | Sep-00 | $100.00 |
| | SB wheels | Feb-01 | $50.00 |
| | SB wheels | Feb-01 | $50.00 |
| PartsMonster | trunk weatherstrip | Apr-00 | $22.22 |
| Mobile Mechanic | labor | Jan-00 | $2,219.28 |
| Ron's Auto Body | labor/parts | Aug-00 | $1,717.92 |
| | labor/parts | Aug-00 | $1,569.00 |
| Escondido Plating | Rechrome items | Dec-00 | $50.00 |
| | | Dec-00 | $85.00 |
| | Bumpers | Sep-00 | $500.00 |
| Performance Resto | Dash Bezel Resto | Jan-00 | $305.00 |
| Automotive Spec. | Steering Wheel Resto | Nov-00 | $145.00 |
| New Radio | | Nov-00 | $250.00 |
| Evan Scott Pontiac | parts | Oct-00 | $85.69 |
| Winston Tires | tire work | Feb-01 | $150.00 |
| Ebay purchases | parts | | $400.00 |
| Napa | parts | | $125.00 |
| Carquest | parts | | $230.24 |
| Just Dashes | interior work | Apr-01 | $1,500.00 |
| Dan's Upholstry | interior-parts and labor | Apr-01 | $1,200.00 |